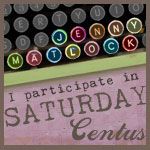 You know it's been a zooey week when it's Wednesday and you're just getting to write your Saturday Centus piece. Ah life! It can certainly interfere with blogging.
Here's the scoop on Saturday Centus. Our facilitator, Jenny Matlock, gives you a prompt. Then you get to add 100 words to that to form a story. And good luck! It ain't easy! That's a fact! (BTW: You'll want to link to the SC homepage, and then read the other entries. Just click on the button at the top of this page and you'll be guided through.)
Now, my story for the week. The prompt is in red.
A Respect For Words
Dorothy found a bundle of yellowed envelopes, tied with a piece of rough twine, in an old trunk in the attic.
She lifted the stack of letters from the ancient chest

, and immediately recognized her husband's handwriting and the name on the address. These were Ben's letters to his first wife, (now deceased), that he had sent from Korea!
Dorothy's thoughts drifted to the letters from her late husband that were neatly tucked into the back of her lingerie drawer.
"Some words are written to be read by only one set of eyes," she whispered, as she placed the letters back in the trunk and gently closed the lid.