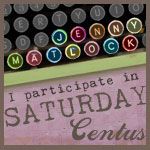 It's Saturday Centus time, and this week Jenny Matlock has come up with a dilly of a prompt. Write a verse, (50 words or less), for a Valentine card to match the picture below. (Wherever did she find a pup with 'bedroom' eyes???) My humble submission is below the picture.
I want to be your super hero.
Let's not waste time, fiddling like Nero.
We don't look like swells or even like yuppies,
But between us I'm sure that we'd have cute puppies.
Come be my love, and I'll take you higher.
Together we'll start our own kind of fire.
I need to apologize for not making the rounds to read and comment on other submissions in the past week or so. I've been ill of late and have not been up to spending much time on the computer. Didn't even get to do a post myself last week...Bummer. I'll try to do better this week and make the rounds. The only thing that would prevent this from happening, would be if I'm packing for the move to Kansas City. You see, I've included this gem in my portfolio and mailed it off to Hallmark Crown Center this morning. I'm just sure I'll get an immediate response!
can should read the other valentine verses by clicking on the Saturday Centus button at the top of the page. Please do that. We all live for comments.